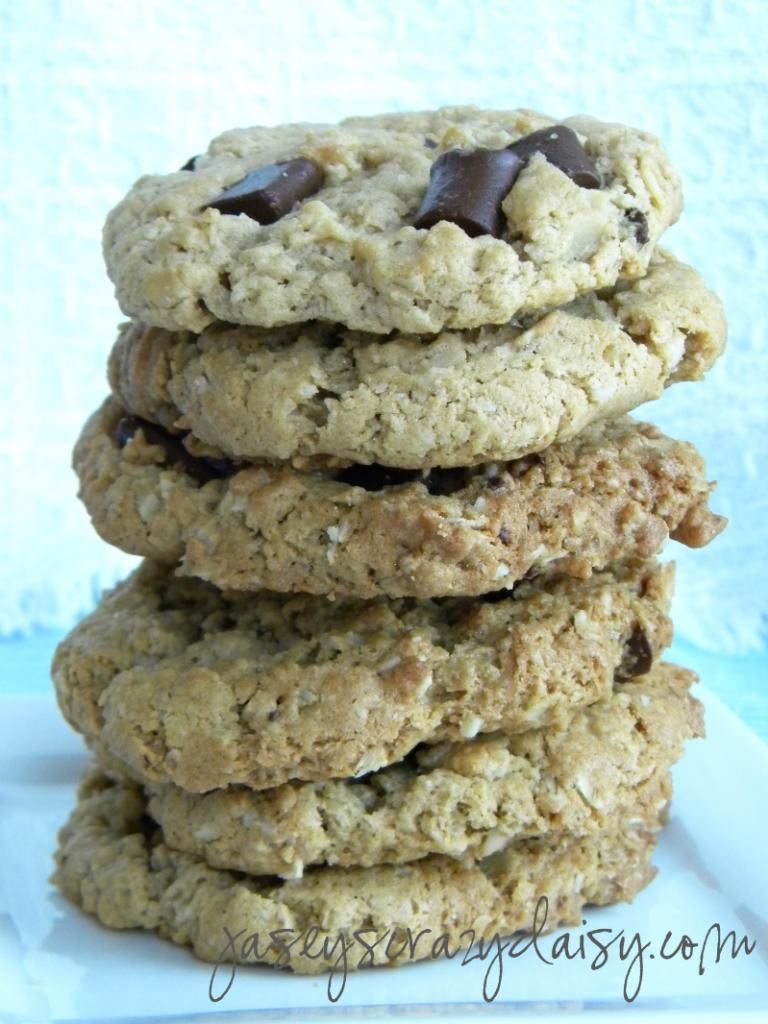 Sometimes you need a cookie, or five, for breakfast. Or at least I do anyways. For the most part, I am okay with my new diet restrictions - other than it seems like I eat all the time and there is this crazy dark void of cookies in my life. But it is nearly impossible to find cookies, decent cookies, that do not have dairy, soy, or gluten in them. And why did chocolate have to go off and marry soy? I find it's not terribly difficult to find chocolate that doesn't contain milk, dark chocolate anyways. But, soy is an entirely different story. Thank heavens for Enjoy Life. I love their mini chips for snacking on, and their chunks are great for recipes like this. But let's get back to cookies. It's hard, but little by little I am learning new recipe tricks. So when I ran across a recipe for flourless monster cookies, (which I thought was unique until I read these comments. I totally didn't know there was such a debate on what puts the monster in monster cookie) I was a little excited. Until I saw that it called for butter. Enter, coconut oil, which totally works! Don't be scared, you can't even taste a hint of coconut, if that would bother you. I also had to get rid of the M&M's, but that's okay. Amp up the chocolate chunks, and it's really no biggie - I can find my happy place with out those colorful bits of cheer as long as I get my cookie.
Flourless Peanut Butter Chocolate Chunk Oatmeal Cookies
*Adapted from this Recipe
*Note - if you are using this recipe to accommodate allergies, make sure each of your ingredients qualifies. I use Skippy or Jiff Natural peanut butter because they do not contain soy. I also use chocolate chips, oatmeal, baking soda, and vanilla that fit my dietary needs. If you need ingredient suggestions, shoot me an email and I will help if I can.
1 1/2 cups creamy (or chunky) peanut butter
1 cup packed brown sugar
1 cup granulated sugar
1/2 cup coconut oil, you can use butter instead
3 large eggs
1 Tablespoon vanilla
4 1/2 cups old fashioned rolled oats (Bob's Red Mill has some that are certified Gluten Free) or quick oats, whichever you prefer
2 teaspoons baking soda
1 (10 oz.) package semi-sweet chocolate chunks
Preheat oven to 350 degrees. Line cookie sheet with parchment paper, or silpat mats. Combine peanut butter, sugars, and coconut oil in a large bowl and mix well. Add eggs and vanilla, mixing until combined. Followed with oats and baking soda. Finally stir in chocolate chunks. Drop by heaping spoonfuls onto prepared cookie sheet. Bake for 10-12 minutes. Cookies will start to get brown around the edges. Be careful not to over bake. Cool for about 5 minutes, or until cookies are set, on cookie sheets. Transfer to wire racks to cool before cooling. Enjoy!
Now I can have my cookie and eat it too!
Before I forget, these cookies are totally yummy and kid-approved and without flour totally easy. So even if you aren't looking for a gluten free cookie, you might just want to try them. And if you don't have a problem with dairy or soy, you could throw in those happy M&M's.